Aims and Scope
João L. Lima, Glaciane Axt, Diogo S. Teixeira, Diogo Monteiro, Luis Cid, Tetsuya Yamamoto, Eric Murillo-Rodriguez, Sergio Machado
---
Autistic Spectrum Disorder (ASD) is a complex neurodevelopmental disorder associated with various etiologies and characterized by deficits in social interaction, emotional reciprocity, communication, motor skills and cognitive functions. Studies have proposed that limited levels of physical activity and late motor skills and fitness, particularly in children and adolescents with ASD, may accentuate social and emotional deficits. In view of this, exergames, which are active video-games, can be considered a low-cost and safe type of exercise for children and adolescents with ASD, since they are more enjoyable than ordinary physical activities, influencing on treatment adherence. Thus, our study aims to evidence the effects of exergames on physical fitness, cognitive functions, and repetitive behaviors in children and adolescents with ASD. Despite the small number of studies investigating the effects of exergames as new strategy in children and adolescents with ASD, results suggest exergames as potential tool for the treatment of children and adolescents with ASD for improvement in physical fitness, cognitive functions and repetitive behavior. Our review pointed towards the importance of exergames for children and adolescents with ASD. Despite few studies conducted about this issue, we can consider exergames a potential tool to increase physical fitness, cognitive functions and to decrease repetitive behavior in children and adolescents with ASD. Moreover, health professionals should be careful when attempting to help this population, because the current literature is unclear yet about the improvement of ASD features through exergames.
---
March 13, 2020
Angelo Picardi, Mauro Pallagrosi, Laura Fonzi, Giovanni Martinotti, Emanuele Caroppo, Giulio Nicolò Meldolesi, Giancarlo Di Gennaro, Marco De Risi, Massimo Biondi
---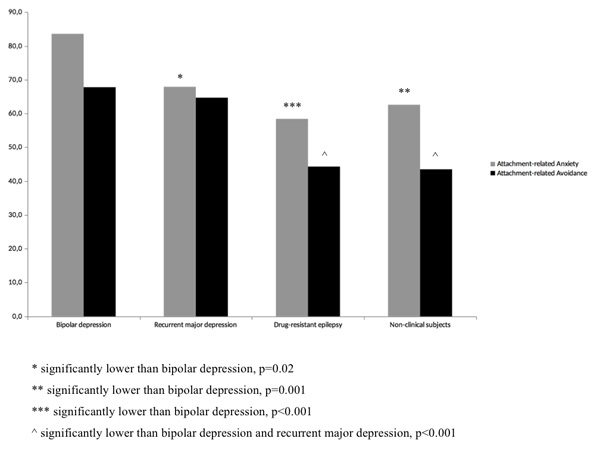 Background:
A link between depression and insecure attachment has long been postulated. Although many studies examined the relationship between depressive symptoms and attachment, relatively few studies were performed on patients diagnosed with depression. Also, research on patients with bipolar disorder is scarce.
Objective:
We aimed at testing the association between attachment insecurity and unipolar and bipolar depression.
Methods:
We studied 21 patients with bipolar disorder, current episode depressed, and three age- and sex-matched groups, each consisting of 21 individuals: patients with major depressive disorder, recurrent episode; patients with epilepsy; non-clinical participants. The Experience in Close Relationships questionnaire was used to assess adult attachment style.
Results:
Patients with both bipolar and unipolar depression displayed significantly higher scores on attachment-related avoidance as compared with patients with epilepsy and non-clinical participants. Also, patients with bipolar depression scored significantly higher on attachment-related anxiety than all other groups. In both psychiatric groups, attachment dimensions were not significantly correlated with global clinical severity or severity of depression.
Conclusion:
Despite some study limitations, our results are consistent with some previous studies and provide support to Bowlby's seminal hypothesis that attachment insecurity may predispose to depression. Attachment theory may provide a valuable theoretical framework for future research and for guiding treatment.
---
December 31, 2019