Aims and Scope
Christoph Riegler, Silke Wiedmann, Viktoria Rücker, Henning Teismann, Klaus Berger, Stefan Störk, Eduard Vieta, Hermann Faller, Bernhard T Baune, Peter U Heuschmann
---
Background:
The Functioning Assessment Short Test (FAST) is an interviewer-administered scale assessing functional impairment originally developed for psychiatric patients.
Objectives:
To adapt the FAST for the general population, we developed a self-administered version of the scale and assessed its properties in a pilot study.
Methods:
The original FAST scale was translated into German via forward and backward translation. Afterwards, we adjusted the scale for self-administered application and inquired participants from two ongoing studies in Germany, 'STAAB' (Würzburg) and 'BiDirect' (Münster), both recruiting subjects from the general population across a wide age range (STAAB: 30-79 years, BiDirect: 35-65 years). To assess reliability, agreement of self-assessment with proxy-assessment by partners was measured via intraclass correlation coefficient (ICC) over the FAST score. Construct validity was estimated by conducting correlations with validated scales of depression (PHQ-9), anxiety (GAD-7), and health-related quality of life (SF-12) and regression analyses using these scales besides potentially disabling comorbidities (e.g. Chronic Back Pain (CBP)).
Results:
Participants (n=54) had a median age of 57.0 years (quartiles: 49.8, 65.3), 46.3% were female. Reliability was moderate: ICC 0.50 (95% CI 0.46-0.54). The FAST score significantly correlated with PHQ-9, GAD-7, and the mental sub-scale of SF-12. In univariable linear regression, all three scales and chronic back pain explained variance of the FAST score. In multivariable analysis, only CBP and the SF-12 remained significant predictors.
Conclusion:
The German self-administered version of the FAST yielded moderate psychometric properties in this pilot study, indicating its applicability to assess functional impairment in the general population.
---
September 25, 2020
Angelo Picardi, Mauro Pallagrosi, Laura Fonzi, Giovanni Martinotti, Emanuele Caroppo, Giulio Nicolò Meldolesi, Giancarlo Di Gennaro, Marco De Risi, Massimo Biondi
---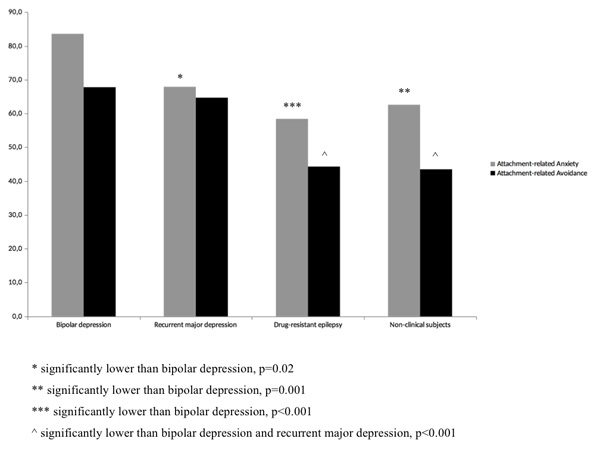 Background:
A link between depression and insecure attachment has long been postulated. Although many studies examined the relationship between depressive symptoms and attachment, relatively few studies were performed on patients diagnosed with depression. Also, research on patients with bipolar disorder is scarce.
Objective:
We aimed at testing the association between attachment insecurity and unipolar and bipolar depression.
Methods:
We studied 21 patients with bipolar disorder, current episode depressed, and three age- and sex-matched groups, each consisting of 21 individuals: patients with major depressive disorder, recurrent episode; patients with epilepsy; non-clinical participants. The Experience in Close Relationships questionnaire was used to assess adult attachment style.
Results:
Patients with both bipolar and unipolar depression displayed significantly higher scores on attachment-related avoidance as compared with patients with epilepsy and non-clinical participants. Also, patients with bipolar depression scored significantly higher on attachment-related anxiety than all other groups. In both psychiatric groups, attachment dimensions were not significantly correlated with global clinical severity or severity of depression.
Conclusion:
Despite some study limitations, our results are consistent with some previous studies and provide support to Bowlby's seminal hypothesis that attachment insecurity may predispose to depression. Attachment theory may provide a valuable theoretical framework for future research and for guiding treatment.
---
December 31, 2019