Aims and Scope
Donatella Rita Petretto, Ilaria Masala, Carmelo Masala
---
School closure and home confinement are two of the measures of lockdown chosen by governments and policymakers all over the world to prevent and limit the spread of the infection of COVID-19. There is still an open debate about the real effect of school closure on the reduction of risk of infection on children and the risk of infection on with other age groups (parents, grandparents and others). There is an agreement on the effect of school closure in reducing and delaying the peak of the outbreak. In this Editorial, starting from the ongoing Italian experience, we discuss direct and indirect effects of school closure on children's psychological health and learning. We also highlight the need for an "on peace time" planning of measures and strategies necessary to face the direct and indirect effect of this outbreak and other outbreaks, on children's psychological health.
---
August 18, 2020
Angelo Picardi, Mauro Pallagrosi, Laura Fonzi, Giovanni Martinotti, Emanuele Caroppo, Giulio Nicolò Meldolesi, Giancarlo Di Gennaro, Marco De Risi, Massimo Biondi
---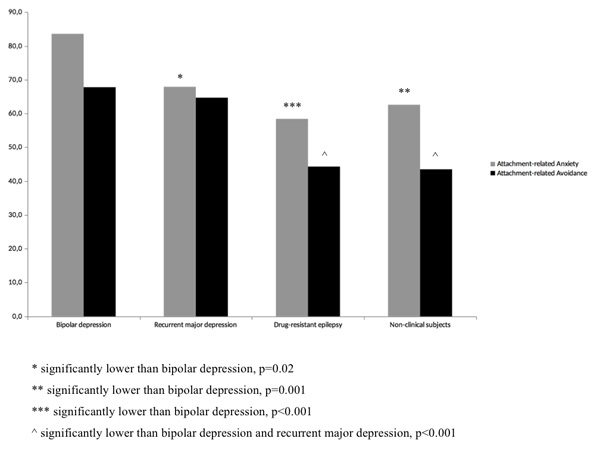 Background:
A link between depression and insecure attachment has long been postulated. Although many studies examined the relationship between depressive symptoms and attachment, relatively few studies were performed on patients diagnosed with depression. Also, research on patients with bipolar disorder is scarce.
Objective:
We aimed at testing the association between attachment insecurity and unipolar and bipolar depression.
Methods:
We studied 21 patients with bipolar disorder, current episode depressed, and three age- and sex-matched groups, each consisting of 21 individuals: patients with major depressive disorder, recurrent episode; patients with epilepsy; non-clinical participants. The Experience in Close Relationships questionnaire was used to assess adult attachment style.
Results:
Patients with both bipolar and unipolar depression displayed significantly higher scores on attachment-related avoidance as compared with patients with epilepsy and non-clinical participants. Also, patients with bipolar depression scored significantly higher on attachment-related anxiety than all other groups. In both psychiatric groups, attachment dimensions were not significantly correlated with global clinical severity or severity of depression.
Conclusion:
Despite some study limitations, our results are consistent with some previous studies and provide support to Bowlby's seminal hypothesis that attachment insecurity may predispose to depression. Attachment theory may provide a valuable theoretical framework for future research and for guiding treatment.
---
December 31, 2019